Veterans Benefits
​

A MESSAGE FROM VETERANS SERVICES

The Bureau of Veterans Services assist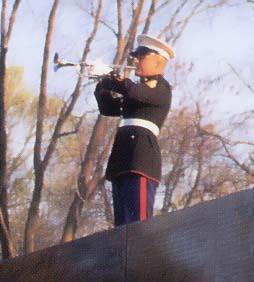 s servicemen, their dependents and survivors. The Bureau shall, at the request of a veteran, the dependent or survivor, endeavor to obtain for the requester any benefit or advantage due to such person under the laws of the United States, State of New Jersey, or any other state or governmental agency, by reason of the veteran's military service.
Federal benefits may include any of the following:
Burial Allowance
Burial Flags
National Cemetery Burial
Grave Marker or Headstone
Compensation
Compensation for Dependent Parents
Dependency and Indemnity Compensation for Service Connected Deaths
Pension for Non-Service Connected Deaths
Federal Civil Service Preference
Re-employment Compensation FHA Home Mortgage Insurance for Veterans
Farm Loan Benefits
VA - FI Loans _ Home, Farms
Out-patient medical and Dental Care
Educational Benefits
Pension - Non Service Connected Disabilities
Vocational Disabilities
Education
Specially Adapted Homes and Motor Vehicles
Clothing Allowances
Further information on these benefits may be obtained by calling your local Bureau of Veterans Services.
REIMBURSEMENT OF BURIAL EXPENSES
VA will pay $300 burial and funeral expense allowance for veterans who, at time of death, were entitled to receive pension or compensation or would have been entitled to compensation but for receipt of military pay. Eligibility is also established when death occurs in a VA facility or a nursing home with which VA contracted, and additional costs of transporting the remains may be reimbursed in those cases. Claims must be filed within two years after permanent burial or cremation.
VA will pay an additional $150 plot or interment allowance if the requirements for the basic allowance are met or the veteran was discharged from active duty because of disability incurred or aggravated in the line of duty and is not buried in a cemetery that is under U.S. Government jurisdiction.
If the veteran is buried without charge for the cost of a plot or interment in a State-owned cemetery reserved solely for veteran burials, the $150 plot allowance may be paid to the State. To the extent that burial expenses were paid by the deceased's employer or a State agency, they will not be reimbursed to those making interment arrangements.
If the veteran's death is service-connected, VA will pay a burial allowance up to $1500 instead of the $300 basic allowance and the $150 plot allowance. VA will also pay the cost of transporting the remains of a service-disabled veteran to the national cemetery with available grave space nearest his or her home. The person who bore the veteran's burial expenses may claim reimbursement.
BURIAL FLAGS
An American flag is available to drape the casket of a veteran who was discharged under conditions other than dishonorable. After the funeral service the flag may be given to the next of kin or a close associate of the deceased. VA also will issue a flag on behalf of a service member who was missing in action and later presumed dead. Flags are issued at an VA regional office, VA national cemetery and most local post offices.
BURIAL IN NATIONAL CEMETERIES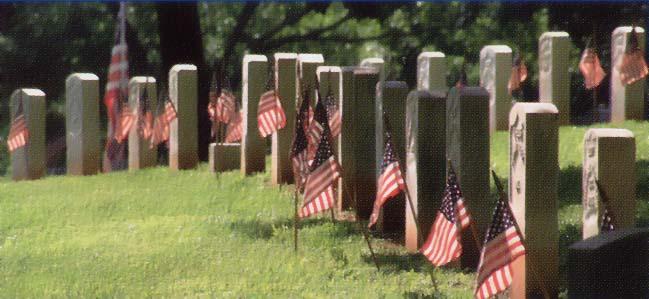 Eligibility for burial in a VA National Cemetery is based on the length of time in active military service and the nature of the veteran's separation from the service. Members of the U.S. armed forces who died on active duty and veterans who were discharged or separated from active duty under conditions other than dishonorable are eligible for burial in national cemeteries. Limitations to this eligibility began in 1980. Veterans who entered active duty as enlisted personnel after September 7, 1980 and all veterans who entered active duty after October 16, 1981, must meet the following criteria to be eligible for burial in a national cemetery:
If they have served at least 24 months of active duty or for the entire period they were called to active duty, or
If they have received a hardship discharge or a service-connected disability.
Burial in a VA national cemetery is also available to an eligible veteran's spouse, widow or widower who has not remarried and dependent minor children.
*** Be advised that Arlington National Cemetery is under the jurisdiction of the Department of the Army, not the Department of Veterans Affairs. With the exception of cremated remains, burial is limited to specific categories of military personnel and veterans.
HEADSTONE or GRAVE MARKER BENEFITS
Veterans eligible for burial in a national cemetery, buried on or after October 18, 1978, are entitled to a government-provided-headstone or grave marker, regardless of whether they are buried in a national cemetery. For deaths occurring before November 1, 1990, a monetary allowance of up to $100 is available in lieu of the government-provided headstone, for veterans not buried in a national cemetery. This allowance can be applied to the purchase or placement of the headstone, or for additional engraving on an existing monument. This monetary allowance is not available for deaths occurring on or after November 1, 1990.
Parts re-printed from 1997-98 NFDA Membership and Resource guide
CLICK HERE TO PRINT YOUR PERSONAL VETERANS SERVICE RECORD
PROUD RECIPIENTS OF THE NATIONAL FUNERAL DIRECTORS ASSOCIATION "BEST OF THE BEST" AWARD